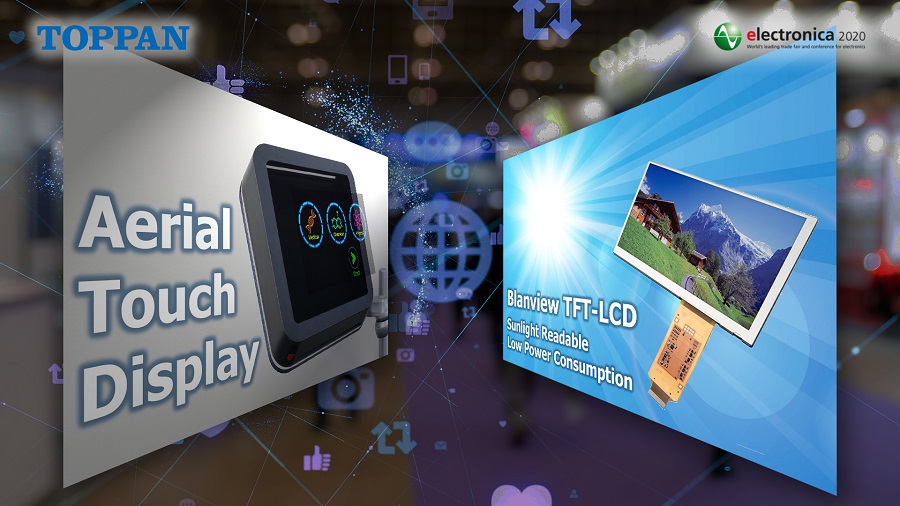 Tokyo – November 6, 2020 – Toppan Printing (Toppan) (TSE:7911), a global leader in communication, security, packaging, décor materials, and electronics, will be participating in electronica virtual 2020 (https://electronica.de/en/trade-fair/information/electronica-2020/), the world's leading trade fair for electronic components, systems, applications, and solutions. The biennial event traditionally held at the Neue Messe München will this year take place digitally from November 9 to 12. Toppan will be presenting its range of cutting-edge display solutions, with a focus on the new aerial touch display and its Blanview technology.

Toppan's recently announced aerial touch display is a next-generation contactless interface solution that represents the world's first technology for generating aerial images parallel to the LCD unit. Blanview, meanwhile, is a lineup of small-to-medium-sized TFT-LCDs leveraging Toppan's unique high-performance amorphous silicon TFT technologies. Blanview displays provide low power consumption and outstanding readability in outdoor settings and have been used for numerous products all over the world for more than 10 years.

"Electronica virtual 2020 will be an excellent opportunity for visitors to see Toppan's latest solutions, not least the new aerial touch display," said Shigeaki Fujiwara, general manager of display sales in Toppan's Electronics Division. "As a space-saving touchless interface that can be operated intuitively, the aerial touch display delivers superior usability while also responding to today's needs for greater hygiene. We look forward to giving everyone an insight into the possibilities that our leading-edge technologies can offer. "

The Toppan booth will be open 24 hours a day during electronica virtual 2020. Online chat with Toppan's specialist personnel will be available between 9:00 and 17:00 Central European Time and online meetings can be arranged in English or Japanese.
About Toppan
Toppan is a leading global provider of integrated solutions in the fields of printing, communications, security, packaging, décor materials, electronics, and digital transformation. Serving customers in every sector of business and industry, Toppan's global team of more than 50,000 employees offers optimal solutions enabled by industry-leading expertise and technologies to address the diverse challenges that businesses and society face in today's rapidly changing market.

For more information, visit https://www.toppan.com/en/ or follow Toppan on LinkedIn https://www.linkedin.com/company/toppan-printing/.