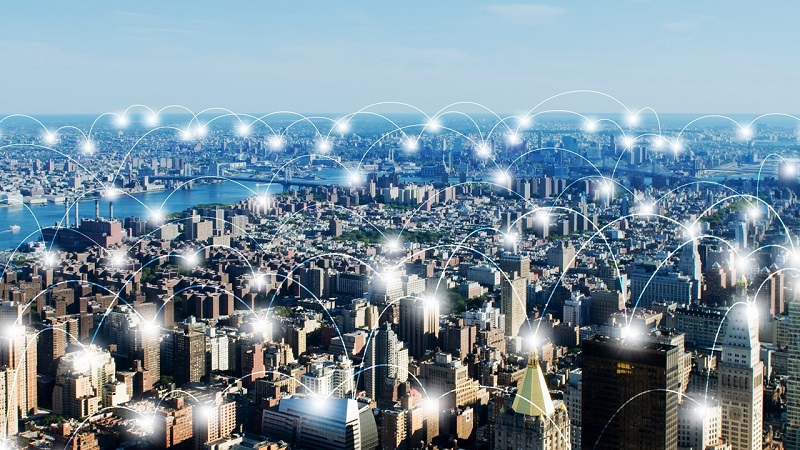 Tokyo – May 31, 2021 – Toppan Printing (Toppan) (TYO: 7911), a global leader in communication, security, packaging, décor materials, and electronics solutions, has begun mass production of a new, improved communication module as a core component for ZETA, the next-generation Low Power Wide Area (LPWA) network protocol.

The ZETA protocol features Ultra Narrow Band (UNB), distributed access with intelligent mesh topology and bi-directional communication. As the IoT moves towards full-scale implementation, ZETA is garnering attention as a form of communication infrastructure for low-data-volume sensor devices, such as those for temperature, humidity, and voltage. Because ZETA uses battery-powered motes (intermediate nodes) to expand the network area, it enables stable wireless communication in locations in which connection using other LPWA networks can be problematic, such as factories with complex layouts and office buildings with underground facilities.

Since its launch in June 2019, Toppan's "TZM901" communication module has been adopted for a wide range of sensor devices, sensor terminals, and other edge devices that are integral to ZETA networks. In response to demand for more compact modules that help save space and improve design for devices, Toppan has now launched "TZM902," a new and improved module. TZM902 is approximately 25% smaller than the previous model due to an extensive rethinking of components, including adoption of a system on a chip (SoC) to reduce the number of components, use of smaller components, and removal of the antenna connector.

Toppan's ZETA communication modules offer a range of features, including low-power bi-directional communication, ad hoc networks formed by modules connecting automatically when charging is complete, and self-healing networks that ensure the reliability of data transmission because the module automatically attempts to reconnect to the network if it becomes disconnected. Optimal routing and transmission scheduling policies are selected to ensure efficient data transmission, while the UART connection interface facilitates product development through connection to general sensors via microcomputers. Robust security is provided by standard functions for encryption-based data protection, spoofing prevention, and inhibition of communication between different groups using device whitelists.

The new TZM902 module also supports Firmware Over The Air (FOTA) for wireless rewriting of firmware. Updates of the functions of communication modules have traditionally required devices to be recovered and communication protocols to be rewritten via physical connections. TZM902 makes it possible to perform the operation over wireless networks to update devices that are already on the market. This eliminates the need to recover terminals and vastly improves the efficiency of maintenance operations, particularly for devices in locations that are remote or difficult to access.

Toppan has also launched sales of "ZETA TZM902 Add-on Board for SPRESENSE." Sony Semiconductor Solutions Corporation's SPRESENSE™1 is a low-power board computer for the IoT that is equipped with a GPS receiver and supports high-resolution audio codecs. ZETA TZM902 Add-on Board for SPRESENSE facilitates development and evaluation of high-performance, low-power ZETA-compatible edge devices in short timeframes.

"The launch of mass production of the new TZM902 communication module marks the latest step in Toppan's efforts to drive the adoption of the ZETA protocol and make the widespread implementation of the IoT a reality," said Yoshihisa Aida, General Manager of Marketing in Toppan's Electronics Division. "The smaller size of the new module and ability to update firmware over wireless networks will provide significant benefits for companies developing new edge devices and other ZETA-related products."

The new TZM902 communication module and Toppan's other ZETA-related activities will be presented in the "ZETA Alliance" Toppan booth at Wireless Japan 2021 from June 2 to 4.

1. SPRESENSE is a trademark of Sony Group Corporation.
For more information, visit https://developer.sony.com/develop/spresense/
About Wireless Japan 2021
Dates & times: June 2–4, 2021 10:00–18:00 (Ends at 17:00 on final day)
Venue: Tokyo Big Sight Aomi Exhibition Halls, A Hall
Organizers: RIC TELECOM/E.J.K. Japan, Ltd.
Official website: https://www8.ric.co.jp/expo/wj/ (Japanese)
Online exhibition: June 9–30
About ZETA
ZETA is the latest LPWA network protocol designed for the IoT. It has been developed by ZiFiSense (http://www.zifisense.co.uk/index.html) and features Ultra Narrow Band (UNB), distributed access with intelligent mesh topology and bi-directional communication. As an LPWA protocol, ZETA is receiving attention for its ability to be operated at a lower cost and with fewer base stations than other LPWA protocols due to multi-hop communication via motes.
About Toppan
Toppan is a leading global provider of integrated solutions in the fields of printing, communications, security, packaging, décor materials, electronics, and digital transformation. Serving customers in every sector of business and industry, Toppan's global team of more than 50,000 employees offers optimal solutions enabled by industry-leading expertise and technologies to address the diverse challenges that businesses and society face in today's rapidly changing market.

For more information, visit https://www.toppan.com/en/ or follow Toppan on LinkedIn https://www.linkedin.com/company/toppan-printing/.