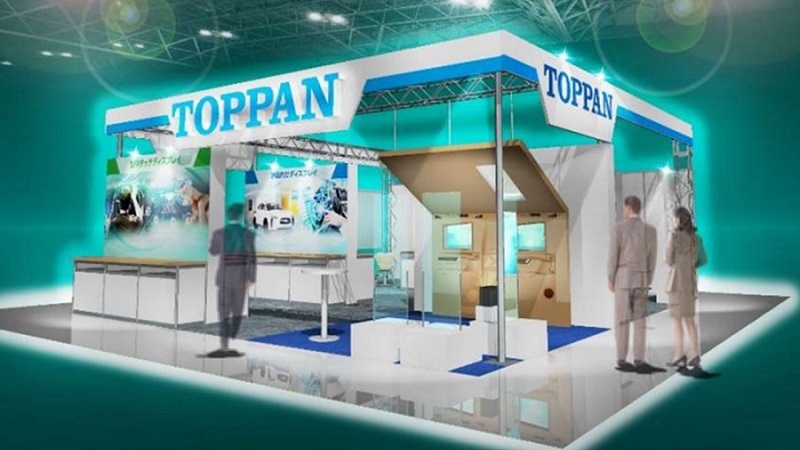 Tokyo – January 19, 2023 – Toppan (TYO: 7911), a global leader in communication, security, packaging, décor materials, and electronics solutions, will participate in the 15th AUTOMOTIVE WORLD—Advanced Automotive Technology Show, which will be held at the Tokyo Big Sight exhibition center from January 25 to 27.

AUTOMOTIVE WORLD is a large-scale event that showcases the latest technologies powering solutions for the automotive industry and covers leading-edge themes, including driving automation, vehicle electrification, automobile parts and processing technologies, and lightweighting.

Toppan's booth will present for the first time the new "Normal Black" grade of LC MAGIC™ liquid crystal light control film. The new grade blocks 95% of visible light to ensure privacy inside vehicles. The booth will also feature exhibits and demonstrations of various advanced technologies for automotive electronics, such as the new round model Blanview™ LCD, which provides superior visibility in outdoor environments and low power consumption.

"Toppan has developed a range of solutions aligned with the evolving automotive industry," said Tetsuro Ueki, Senior Managing Executive Officer of Toppan's Electronics Division. "Our offerings are backed by cutting-edge technologies and know-how, and we look forward to presenting some of the latest ways in which we can add value for customers at AUTOMOTIVE WORLD."
Main solutions on show
Light blocking "black"light control film for vehicles (exhibited for first time)
LC MAGIC™ is a liquid crystal light control film that changes from transparent to opaque at the flick of a switch. The latest "Normal Black" grade of LC MAGIC™ is a black color with a visible light transmission of 5% when power is off. Applying the film to sunroofs or windows produces a bright, open space inside vehicles when power is on but enables privacy to be maintained when power is turned off, eliminating the need for movable shades. The absence of motors or moving parts means that in addition to enhancing interior comfort, vehicle weight can also be reduced. Related press release: https://www.toppan.com/en/news/2022/12/newsrelease221219.html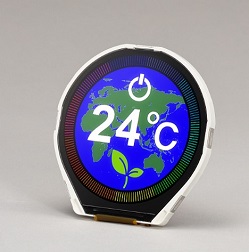 Round LCD with outstanding outdoor visibility (exhibited for first time)
Toppan's Blanview™ series of TFT-LCDs delivers high outdoor visibility coupled with low power consumption. Blanview™ Round-LCD 3.1-inch (diameter 7.86 cm) is round and makes color display possible for gauges on motorcycles, construction vehicles and agricultural machinery or dials on air conditioning units. The potential uses of Blanview™-F 12.1-inch (diagonal length 30.8 cm), meanwhile, include being incorporated into electric vehicle charging stations.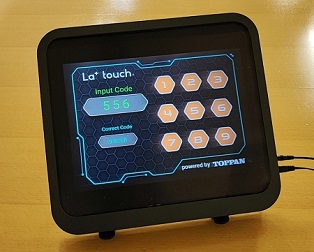 Large 12.1-inch thin aerial touch display (exhibited for first time in Tokyo area)

La⁺ touch™ is a next-generation interactive display that generates images in the air and enables contactless operation by users, who only need to align their fingers with the position of the floating images. Since the initial product launch in October 2020, Toppan has made a series of enhancements, such as increasing the viewing angle, improving image quality and clarity, and significantly reducing power consumption, and the aerial touch displays have been adopted for large office buildings. Because operation is contactless, the panel remains clean, which aids maintenance work for equipment at factories and other facilities. Toppan will demonstrate a prototype of the latest 12.1-inch model at AUTOMOTIVE WORLD.
Related releases:
https://www.toppan.com/en/news/2020/10/newsrelease201012e.html
https://www.toppan.com/en/news/2021/09/newsrelease210915.html
Further information on solutions exhibited is available on Toppan's event site for AUTOMOTIVE WORLD:
https://www.toppan-automotive.com/en/index.php

About 15th AUTOMOTIVE WORLD—Advanced Automotive Technology Show
Dates: January 25 to 27, 2023
Times: 10:00—17:00
Venue: Tokyo Big Sight
Organizer: RX Japan Ltd.
Website: https://www.automotiveworld.jp/tokyo/en-gb.html
Toppan booth: 39-24, East Hall 5
Toppan event site for AUTOMOTIVE WORLD: https://www.toppan-automotive.com/en/index.php

Events being held simultaneously: 37th NEPCON JAPAN, 9th WEARABLE EXPO, 2nd SMART LOGISTICS Expo, FACTORY INNOVATION Week 2023
Toppan will also participate in the 7th SMART FACTORY Expo, part of FACTORY INNOVATION Week 2023.
About Toppan
Established in Tokyo in 1900, Toppan is a leading and diversified global provider committed to delivering sustainable, integrated solutions in fields including printing, communications, security, packaging, décor materials, electronics, and digital transformation. Toppan's global team of more than 50,000 employees offers optimal solutions enabled by industry-leading expertise and technologies to address the diverse challenges of every business sector and society and contribute to the achievement of shared sustainability goals.

For more information, visit https://www.toppan.com/en/ or follow Toppan on LinkedIn https://www.linkedin.com/company/toppan/.