Tokyo – March 14, 2023 – Toppan (TYO: 7911), a global leader in communication, security, packaging, décor materials, and electronics solutions, has developed a sensing system for remotely monitoring abnormal sounds, such as metal on metal impacts and friction, that do not occur during normal operation at factories and facilities.

The system consists of sound sensors and a data browsing application and is provided exclusively as a tool for e-Platch™, Toppan's smart solution for supporting equipment inspection. It can detect abnormal sounds from equipment and distinguish them from the normal background noise, trigger alerts, and output reports of abnormalities detected.

e-Platch™ is an integrated monitoring system that can enhance overall risk management at manufacturing plants by automatically collecting environmental data, such as effluent water level and hydrogen ion concentration. ZETA,1 a next-generation Low Power Wide Area (LPWA) network protocol, is used to send data from sensor devices to the monitoring system. Adding sound sensors to the lineup of devices compatible with e-Platch™ can drive greater efficiency for maintenance and inspection work by promptly identifying equipment abnormalities and indicating when machinery parts need to be replaced. Sales of e-Platch™ equipped with the new sound sensing system will be launched in Japan in April this year, targeting manufacturing and facility management companies as well as a wide range of other customers.

"The new sound sensing function adds another dimension to our solution for remote equipment monitoring," said Masaharu Sadaya, marketing manager in Toppan's Electronics Division. "We will drive expanded sales of e-Platch™, offering a range of sensors, including multi-sensors that measure temperature, humidity, illuminance, and carbon dioxide concentration, as we aim to have the system installed at more than 650 customer facilities by fiscal 2025. This will not only reduce the workload for equipment inspection and alleviate the problem of labor shortages, but also reduce the risk of accidents and contribute to safer, more efficient manufacturing operations."
Background
The sounds of machinery in operation and work being performed can constantly be heard in factories and facilities, where multiple pieces of equipment run at the same time. Facility managers have had to identify abnormalities by visiting locations several times a day and using their experience to filter out background noise and listen out for signs of machinery problems, such as the sound of loose bolts or friction caused by degraded parts.

Remote management of this process requires sensors or other devices that detect abnormal sounds. Commercially available items, however, can cost several thousand dollars per unit, and extensive knowledge is required to choose the right device and system from a wide array of products, ranging from multifunctional models to those that only record the volume of a sound emitted from a source. The need to install wiring and secure power sources to transmit information has also presented an obstacle to introducing new systems to factories and facilities.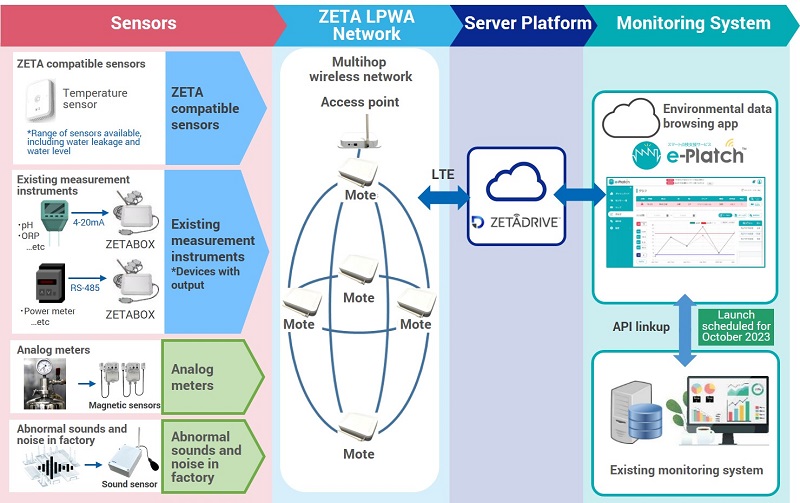 Toppan's solution is to add an abnormal sound detection feature to e-Platch™, the concept for which was announced in June last year. It was originally envisaged that e-Platch™ would collect information on items for which only a low volume of data, in the range of several to tens of bytes, needs to be sent from machinery to the browsing application. This includes temperature, illuminance, water level, and gas concentration. The use of ZETA communication to handle sound and other large-volume data was therefore considered challenging. Toppan, however, has made it possible to handle sound data efficiently in ZETA communication environments by employing circuit design technology developed in its semiconductor design business and data processing expertise from its cloud-based solutions.
Features of the sound sensing system
Abnormal sound alerts
The system records sounds, partitions the data into 21 groups based on bands from 160 to 16,000 hertz, obtains sound intensity data for each frequency band, and sends the data to the browsing application after compressing and dividing it using an original method. The application plots the decibel values of the data in each frequency band, makes sound trends visible on a graph, and sends out an alert if values exceed thresholds set by the user.

Installation in locations where it is difficult to install wiring or secure a power source
Toppan's solution uses waterproof microphones and takes advantage of ZETA's Ultra Narrow Band (UNB) multichannel communication, distributed access with intelligent mesh topology, and bi-directional low-power communication. It can therefore be deployed on the roofs of factories and facilities or in underground locations with complex layouts, making it possible to predict equipment failures and implement countermeasures to noise in such locations.

Less than half the price of existing solutions
Toppan has made it possible to provide the system at less than half the price of existing solutions by shifting functions such as alert activation and abnormality definition/detection from the sensor side to the application side. This makes more detailed monitoring possible, such as by deploying more than double the number of sensors within a budget of the same scale.
*Sensors are dedicated devices for e-Platch™ and are not sold separately.
Features of e-Platch™ smart solution for supporting equipment inspection
ZETA-based blind-spot-free wireless network
Many manufacturing plants have areas with complex structures that inhibit signal transmission or locations at which it is difficult to secure a power source. Appropriate positioning of battery-operated intermediate nodes, known as motes, makes it possible to put in place a wireless network without blind spots.

Existing measurement instruments can be used
The ZETABOX™ data converter makes it possible to digitize data output from measurement instruments and send it to a ZETA network. Because existing measurement instruments can be used, initial costs are reduced, and data collection does not necessitate changes to the way maintenance and related tasks are performed.

Dedicated e-Platch™ monitoring application to visualize environmental data for factories and facilities
The data collected by sensors is managed on the cloud-based ZETADRIVE® platform. The dedicated e-Platch™ monitoring application creates graphs, sends out alerts, generates reports, and provides various other functions to facilitate comprehensive visibility for environmental data at factories and facilities.
1. ZETA is the latest LPWA network protocol designed for the IoT. It was developed by ZiFiSense and features Ultra Narrow Band (UNB), distributed access with intelligent mesh topology and bi-directional communication. ZETA is receiving attention for its ability to be operated at a lower cost and with fewer access points than other LPWA protocols due to multi-hop communication via motes.
About Toppan
Established in Tokyo in 1900, Toppan is a leading and diversified global provider committed to delivering sustainable, integrated solutions in fields including printing, communications, security, packaging, décor materials, electronics, and digital transformation. Toppan's global team of more than 50,000 employees offers optimal solutions enabled by industry-leading expertise and technologies to address the diverse challenges of every business sector and society and contribute to the achievement of shared sustainability goals.

For more information, visit https://www.toppan.com/en/ or follow Toppan on LinkedIn https://www.linkedin.com/company/toppan/.